Wooden shoes should not fit tightly. After you insert your foot, there should be a gap the width of your thumb between your heel and the back of the wooden shoe. Calculate on this page the right size (look below the size calculation table).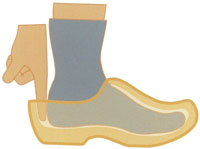 You should also wear a heavy pair of wool socks for comfort. If your wooden shoes are a bit too large, you can add a second or third pair of socks to tighten up the fit. See also our tips in this article about wearing clogs.
To Order your wooden shoes in the proper size:
1. Trace your foot on a piece of paper. (one foot may be slightly larger, if so use the larger for best fit).
2. In centimeters, measure the outline from toe to heel.
3. To this measurement, add one cm for comfort.
4. The USA size and European conversion shown below is typical. However, your careful measurement will more accurately determine your size.
If you are not sure about your size please contact us.
| Clogs size | EU shoe size | UK shoe size | USA men shoe size | USA women shoe size | Age |
| --- | --- | --- | --- | --- | --- |
| 12 cm | 19 | 2-3 | 3-4 (boys) | 5 (girls) | 1-2 |
| 13 cm | 20-21 | 4-5 | 5 | 6 | 2 |
| 14 cm | 22-23 | 5-6 | 6 | 7-8 | 2-3 |
| 15 cm | 24 | 6 | 7 | 9 | 3 |
| 16 cm | 25-26 | 7 | 8 | 10 | 3-4 |
| 17 cm | 27 | 8-9 | 9 | 11 | 4 |
| 18 cm | 28-29 | 10-11 | 10-11 | 12 | 5 |
| 19 cm | 30 | 11-12 | 12 | 13 | 6 |
| 20 cm | 31-32 | 13 | 13 | 1-2 (women) | 7 |
| 21 cm | 33 | 1 | 1 (men) | 3 | 8 |
| 22 cm | 34-35 | 2-3 | 2 | 4 | 9 |
| 23 cm | 36 | 3-4 | 3-4 | 5 | |
| 24 cm | 37-38 | 4-5 | 5 | 6 | |
| 25 cm | 39 | 6 | 6 | 7-8 | |
| 26 cm | 40-41 | 7 | 6-7 | 8-9 | |
| 27 cm | 42 | 8-9 | 8 | 10 | |
| 28 cm | 43-44 | 9-10 | 9-10 | 11 | |
| 29 cm | 45 | 11 | 11 | 12 | |
| 30 cm | 46-47 | | 12-13 | 13 | |
| 31 cm | 48 | | 14 | 14 | |